The Best Areas to Stay in Kalkan – An Insider's Guide
Dubbed "The Italian Riviera minus poseurs" by The Guardian newspaper, much of Kalkan's cultural life happens in its historic Old Town. You can find places to stay in the Old Town, of course... but although Kalkan is not big, there are several distinct areas in and around the town, each having its own special advantages depending upon your priorities.
There's something for everyone in Kalkan!
Here's a colour-coded map showing the different areas in Kalkan: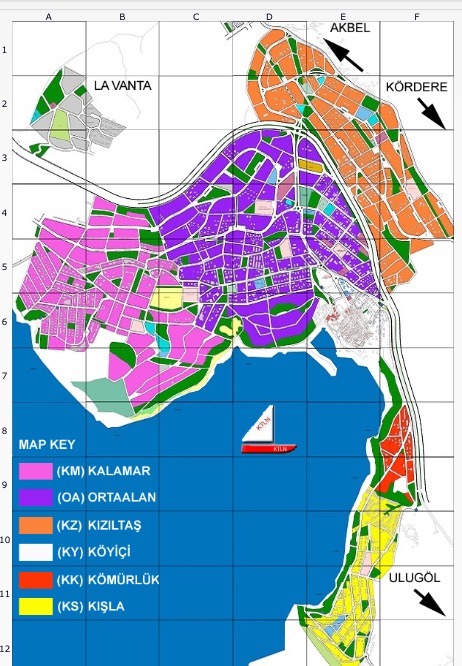 Old Town ("KOYICI" - White on tHe map)
Stay in the Old Town to be close to shops and restaurants, and to experience the charm of this historic area with its narrow streets sloping down to the harbour. Though it's the "busiest" and most condensed area of Kalkan, places here have all the authentic appeal you would expect from this higher-end resort. Look for historic villas, available as apartments or entire houses. Sea views are beautiful from here, though they lack the elevated vantage points of Ortaalan or Kiziltas, and pools (if available) tend to be smaller than in some of the villas further up the hill.
Ortaalan (Purple)
The largest area of Kalkan, Ortaalan's main selling points are its proximity to the main supermarkets, shops and banks and the Thursday market, often coupled with elevated sea views. Since the council offices and main banks moved up from the Old Town a few years ago, Ortaalan is now considered to many to be the "New Town" area of Kalkan. A 5/10-minute walk, or short taxi-ride, from the Old Town and all its amenities, Ortaalan gets a lot of sun, and is less crowded than the Old Town. Many villas and apartments here boast sea-view balconies and swimming pools... some newer apartments blocks have been designed with individual private pools per apartments.
Kisla (Yellow)
With its edge-of-the-bay location, Kisla offers breathtaking island views, superb sunsets, and luxury accommodation options. Most villas are spacious and detached, and boast private pools and balconies. Visitors to Kisla can reach the Old Town with ease – choose between a 10-minute water-taxi ride, 3 minutes by "normal" taxi, or a scenic 20-minute walk. Kisla also has a smattering of its own shops and restaurants, but overwhelmingly, it's a quiet, secluded alternative to Kalkan Old Town.
Komurluk (RED)
Considered by many to be the "premium" location, Komurluk boasts glorious harbour views, and is a 10-minute walk, or 2-minute taxi ride from Kalkan Old Town. Befitting its status as one of the more exclusive areas, accommodation tends to be at the luxury end. Villas here are large-scale homes from home, with all amenities, including balconies and pools. there are also one or two small apartment blocks. Komurluk is exceptionally quiet and peaceful, and has its own beach club offering watersports and a restaurant.
Kiziltas & KORDERE (ORANGE)
Apartments and villas in Kiziltas are usually modern and up-to-the minute. Many boast swimming pools and infinity pools, and offer spectacular sea views. Yet, Kiziltas is an affordable alternative to Kisla and Komurluk. Set in the foothills of the Taurus mountains, and surrounded by idyllic countryside, Kiziltas is more secluded than the Kalkan Old Town area. Nevertheless, you're only a 15-20 minute walk, or 3-minute taxi ride from all the attractions of the town centre.
Kalamar Bay (PINK)
More affordable than Kisla and Komurluk, Kalamar Bay's accommodation has similar appeal to the villas of the Old Town. Places here vary from are historic to modern, and more compact and condensed than in the outlying areas. Though it lacks Ortalaan's elevated sea views, Kalamar Bay is within easy reach of the water and is still a stunningly picturesque location. Kalamar Bay is a 5-minute taxi ride from the Old Town. The walk is 20 minutes, involving a steep hill on the way back. Kalamar Bay also boasts several of its own appealing restaurants and bars.
ISLAMLAR, UZUMLU & SaRIBELEN (OFF THE MAP)
These villages are set in the mountains overlooking Kalkan, around ten to fifteen minutes' drive from the Old Town, and generally offer peace, quiet and solitude - as well as being several degrees cooler than the town... a real boon in the height of summer! You also tend to get more villa for your money out here. These villages each have their own local restaurants and bars, many of which are based around their own trout farms... the sound of the mountain streams only adds to the feeling of peace and tranquility... and the view of the stars, away from the lights of the town, is truly spectacular. But the shops, bars and restaurants of Kalkan town are only a short drive away, so you really can get the best of both worlds!