Kalkan Information
Kalkan is a small town on the Mediterranean. Renowned for historical sites, a thriving restaurant scene and some of the finest beaches in Europe, Kalkan is fast becoming the choice tourist destination on Turkey's Turquoise Coast. Whilst gaining popularity, the small sleepy port has managed to avoid the mass-tourist collateral damage of other Turkish resorts and retains much of its local charm. Development has been restricted and the old town of Kalkan, now home to well over 100 local restaurants, retains its slow-paced traditional way of life.
The TURQUOISE Coast
The Turquoise Coast, also known as The Turkish Riviera, is a stretch of nearly 1000 miles along the coast of south west Turkey stretching from Cesme in the north to Alanya in the south. The area is renowned for its rich blue-green seas, pristine beaches and stunning vertiginous hillside settings with the Taurus Mountains running parallel for much of the coastline. Tourism has boomed in recent years and the sheet scale of the area offers something for everyone, from raucous Bodrum in the north to classy Kalkan in the south.
Restaurants
Kalkan is famed for its vibrant restaurant scene. Alleged to have more restaurants per head of population than anywhere else in Turkey, a particular quirk of the Kalkan scene is the number of rooftop settings. Most restaurants can be found within the historic old town. A traditional rustic setting, allied to stunning rooftop views and warm evening sunsets, make Kalkan something a little bit special.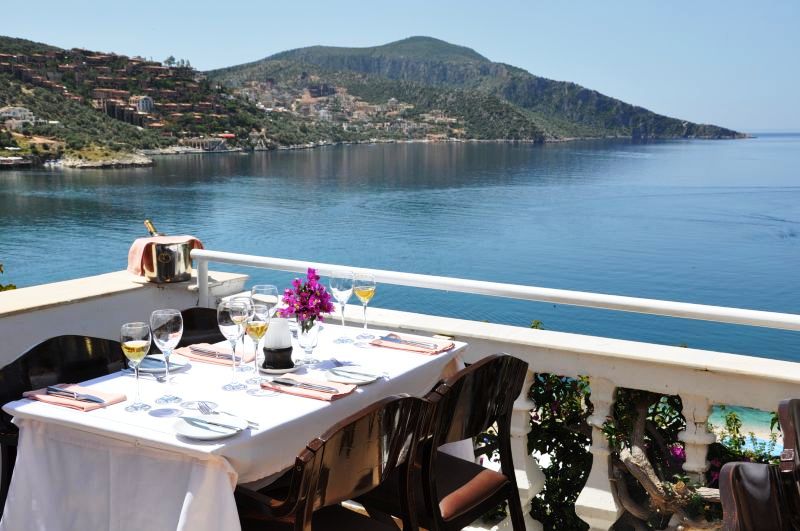 Beaches
The Turquoise Coast is noted for its blonde beaches beneath breathtaking cliff faces and steep hillside coves. Kalkan is no different and within 20 miles you will find several stunning beaches including some of the most memorable on the entire coast. Of particular note are Patara and Kaputas, with Guardian Newspaper Travel in the UK including the latter in their list of Turkey's Top 10 Beaches.
Historical Lycian Sites and Local Points of Interest
Kalkan is situated at the heart of what was ancient Lycia. Colonised by the Lycians in ancient times, Kalkan and surrounding areas are peppered with sites of archeological and historical prominence most notably the ancient capital at Xanthos which includes an acropolis. Holidaymakers with a passing interest in ancient history or simply looking for a good day out will find plenty of options in and around Kalkan.
When To Visit
The "official" tourist season in this part of Turkey is May to October. For many, the best months to visit Kalkan are Spring and early Summer (mid-April to late June) or late Summer and early Autumn (September to October) to avoid the searing midsummer temperatures. During July and August, daily highs can reach 35 degrees or more... if you like it hot, that's the time to come! Even in late September, however, average daily highs of 25 degrees or more can be expected. Don't worry though - air conditioning is standard equipment in holiday accommodation here!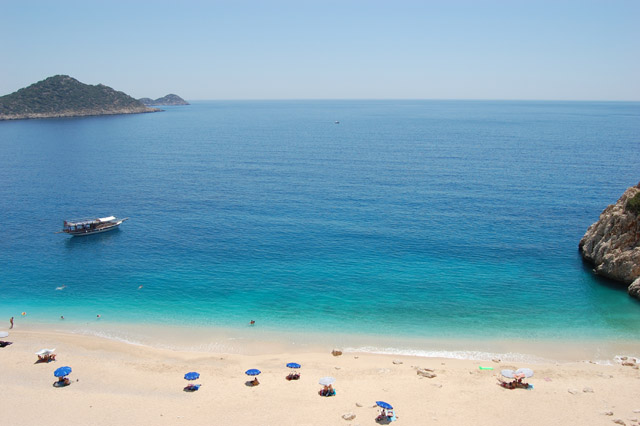 Getting There
The closest airport to Kalkan is Dalaman International, around 80 miles from Kalkan taking roughly 90 mins by car. While various bus options are available, the best and most hassle free way to get to your Kalkan villa is by taxi. Taxis from Dalaman cost around £55 return. There is little variation between drivers, so expect to pay a fairly standard rate. The advantage of taxi over bus is a door to door service. You can fly to Dalaman from most European countries and route options continue to expand.