Kalkan Restaurant Guide
No trip to Kalkan is complete without sampling its legendary restaurant scene. Rooftop restaurants abound - but don't expect to be hassled by street reps trying to cajole you in, like other tourist centres in Southern Europe. Kalkan retains a classy, low-key approach. With allegedly more restaurants per square mile than anywhere else in Turkey, you won't be short of choice. The latest count tops 200!
Here's a selection... but we strongly recommend you dive in and find your own favourites!
Our sister site Kalkan Secrets also runs an annual poll for the Best Restaurant in Kalkan and you can vote and see the results of that here.
The Fish Terrace
Family run fish restaurant in the old town a short walk from Kalkan harbour. Enjoy stunning harbour views from the rooftop terrace. Book early to secure the best tables on the balcony edge. Service offers the perfect blend of formal and friendly. Food is naturally seafood based. Prices are reasonable. Other non seafood dishes are also offered and just as delicious. Some nights you'll find live jazz. Renowned for its ambience and atmosphere. At its best during sunset.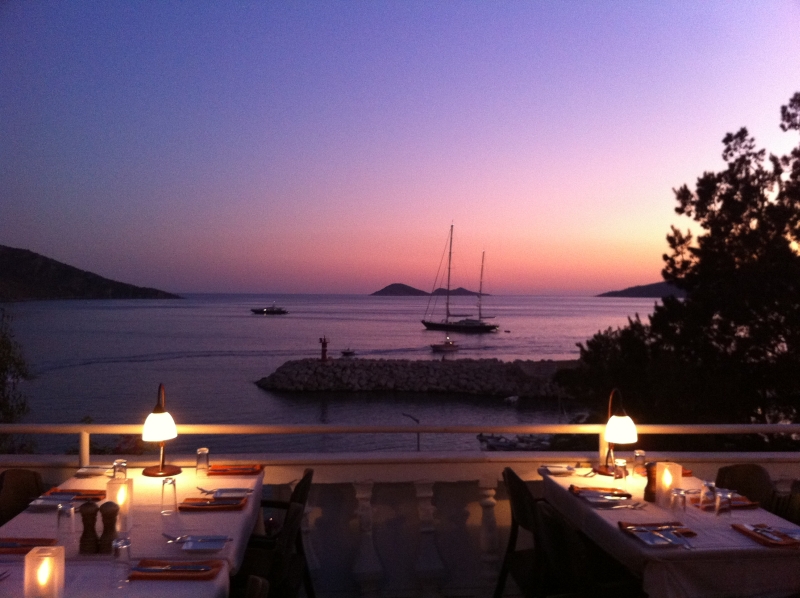 Mussakka
Mussakka restaurant is situated overlooking the main road into the old town. Enjoy a broad menu and excellent selection of cocktails (the latter can be enjoyed without food). Renowned for excellent food, atmosphere and service. Note that the prominent location and Mussakka's popularity means getting a table can be a challenge, so worth booking ahead. Prices higher than most other restaurants, but still very reasonable. An excellent children's menu is also worth a mention.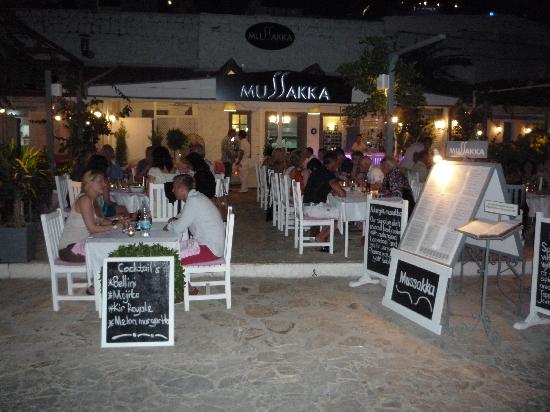 Trio
Bar and restaurant overlooking the marina at the harbour. Wide varied menu mixing local seasonal ingredients and flavours with Mediterranean and Asian themes. Good, well presented food at reasonable prices given its prime location. Lovely harbour views and bar area provides ideal spot for a nightcap. Grab an outside table overlooking the marina and watch the sun set. Trio Website

Korsan Meze
Harbour front restaurant with open air setting. Sister establishment to the Fish Terrace. Varied menu at reasonable prices given prime location. Booking in advance if recommended as the restaurant can be very popular during peak holiday season. Even more so than other restaurants based on several years or success. They also deliver direct to villas, try breakfast or lunch by your own pool. Beautiful setting, great food, fair prices and spot on service sum it up.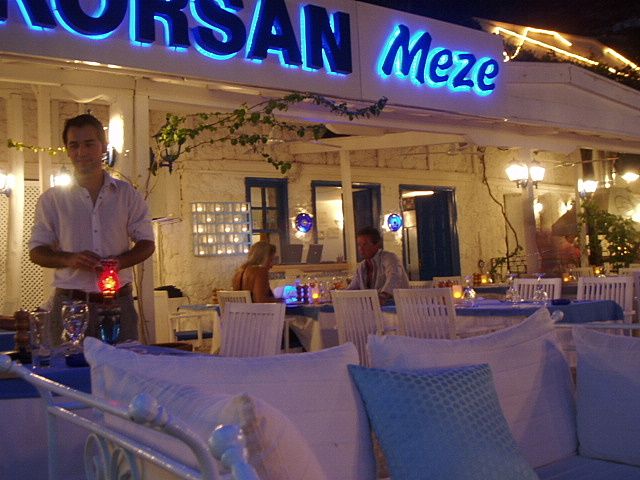 Aubergine
Traditional Turkish cuisine in prime harbour location. Enjoy open air dining on the terrace. Open for breakfast, lunch and dinner. Great views across the harbour. Also available just for cocktails and drinks. Slightly pricier than some of Kalkans other harbour side restaurants. A more modern and contemporary decor. Busy so booking ahead is recommended. Aubergine Website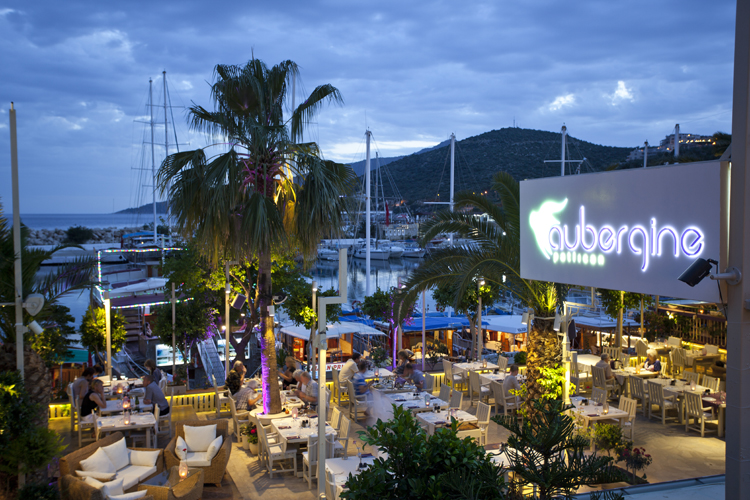 Likya Pavilion
Fine dining restaurant within a luxury hotel complex. One of the most impressive restaurant settings in Kalkan located on the edge of sea with stunning views across Kalkan bay. The perfect place to watch the sun set. 5 minutes walk along the coast from the Harbour but no more expensive. The perfect choice for a romantic meal. The complex is also home to a small collection of luxury private villas. Likya Pavilion Website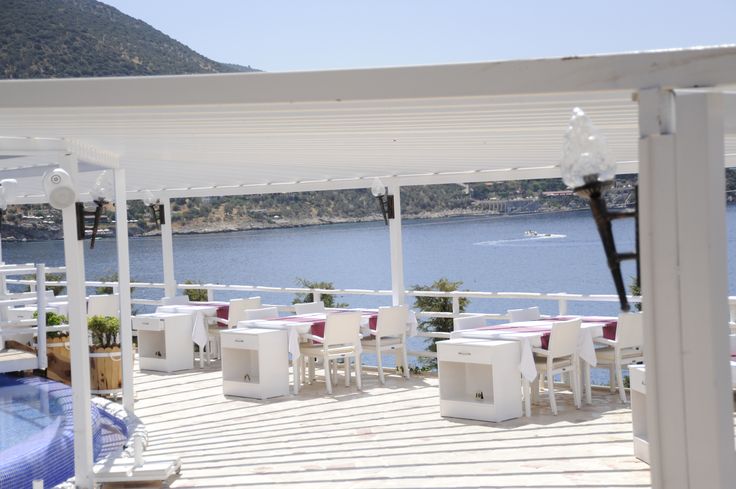 Gironda
Located in the middle of Kalkan old town. Renowned for its elevated rooftop terrace with views across Kalkan. Owner Jimmy and his team of waiters have become a Kalkan staple, noted for their friendly good humoured service. Jimmy usually welcomes diners personally and from drinks in the courtyard through to being led to your table and a much celebrated dining experience Gironda attempts to set itself apart from the competition. Tastefully decorated, Gironda is housed in one of the oldest buildings in Kalkan.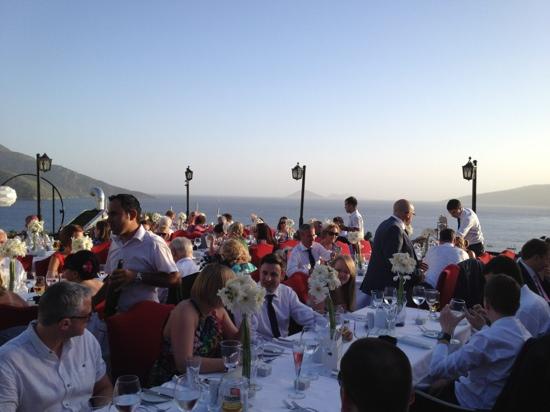 Sade
Compact rustic restaurant situated in the heart of Kalkan old town with two set evening sittings. As always in Kalkan alfresco dining available on the small terrace. In as tough a market as Kalkan, with other restaurants aiming to set themselves apart by way of their unique service or prime sea view location, in Sade itís all about the food. While service, setting and ambience are still top class Sade gets top marks for its dishes.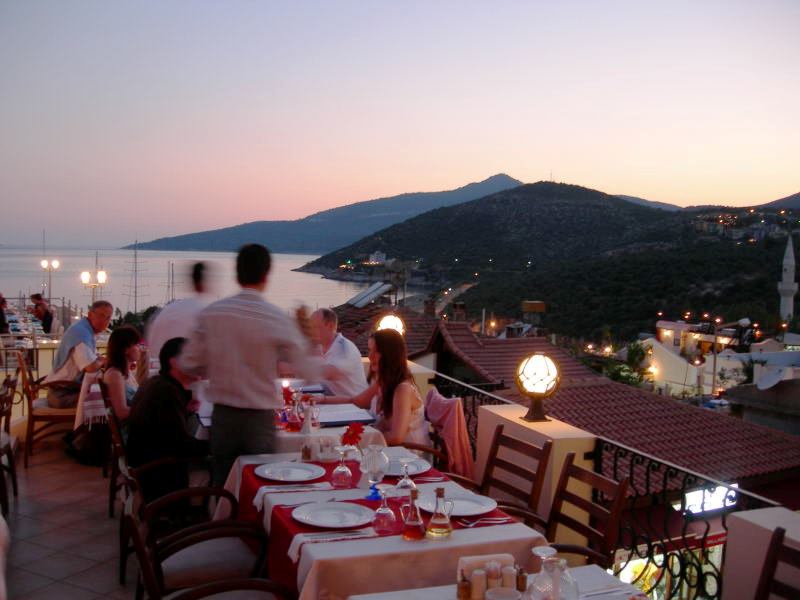 Kalamaki
Authentic Turkish fine dining cuisine in Kalkan old town. Very busy, which tells you everything about its reputation. Considered a must visit during any Kalkan trip. Renowned for the quality and presentation of its dishes. Rooftop terrace offers fantastic views over Kalkan. The decor (especially the toilets) hint at aspirations to be Kalkans most sophisticated restaurant. The perfect choice for a romantic meal for two. Kalamaki Website